Limited Time Offer
May 21st - 25th, 2018
PUBLIC NOTICE! Free Video Ear Inspection for Seniors One Week Only - Appointment Necessary.
Hearing Loss or Maybe just Earwax?
Did you know, one of the common causes for hearing loss is ear wax? This week only, a State Licensed Hearing Specialist will examine the inside of your ear canal and eardrum with a state of the art Video Monitor. This video inspection allows you, the patient, to view the process along with the specialist.

You will receive a full explanation of exactly what you are seeing. The specialist will be able to detect any wax buildup or perhaps the reason for that plugged up feeling, ringing or noise in your ears, or any type of hearing loss.

All of this is a FREE service with absolutely NO OBLIGATION. Do not miss this opportunity for your free video ear inspection.

To avoid waiting, you MUST call ahead for an appointment. In addition, bring this form in to receive a Free Comprehensive Hearing Evaluation.
Available at our Greenville, OH & Brookville, OH offices. Appointment times are limited so call today! 1-888-709-9211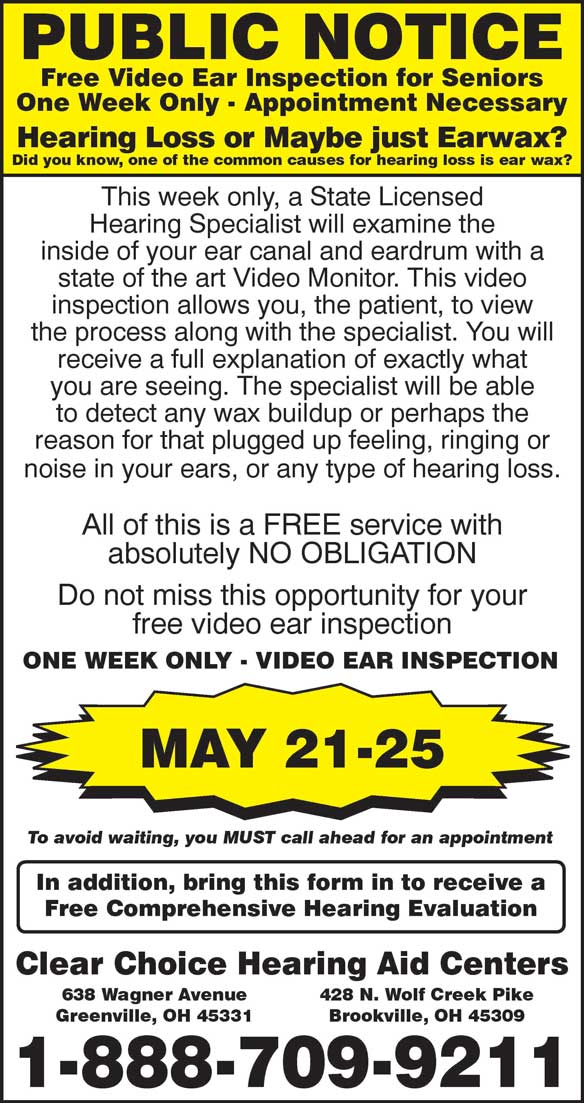 Print Flyer
Call Now