Limited Time Offer
July 16th - 20th, 2018
Innovation meets expertise. Unrivaled hearing instrument technology with professional hearing aid fitting experience to back it up. You're invited to join us at our 5 days special event. During this event you will receive:
FREE Hearing Evaluation. This audiometric evaluation will precisely show you what you've been missing
FREE Product Demonstrations. Experience our amazing new technology for yourself
FREE Otoscopic Ear Inspection. We'll look inside your ear, it may just be wax buildup
FREE Clean & Check. We'll clean your current hearing aids during your visit
Additionally we will offer:
RISK-FREE 30 Day Trial
Invisible hearing aids for only $495.00


For mild hearing losses not exceeding 35 decibels. Not to be combined with other coupon discounts or trade-in, not to be applied to prior purchases. Will only apply to these dates.
Available at our Greenville, OH & Brookville, OH offices. Appointment times are limited so call today! 1-888-571-8525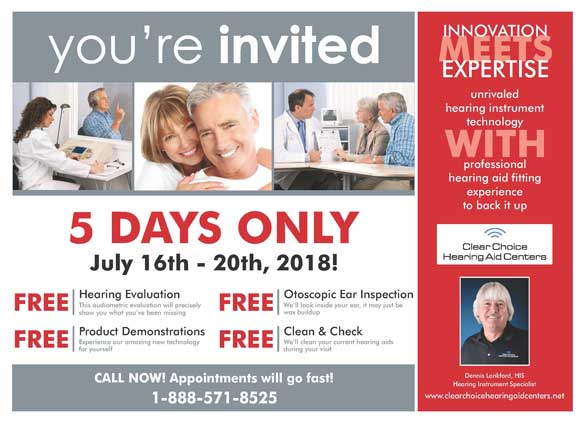 Print Flyer
Call Now